Description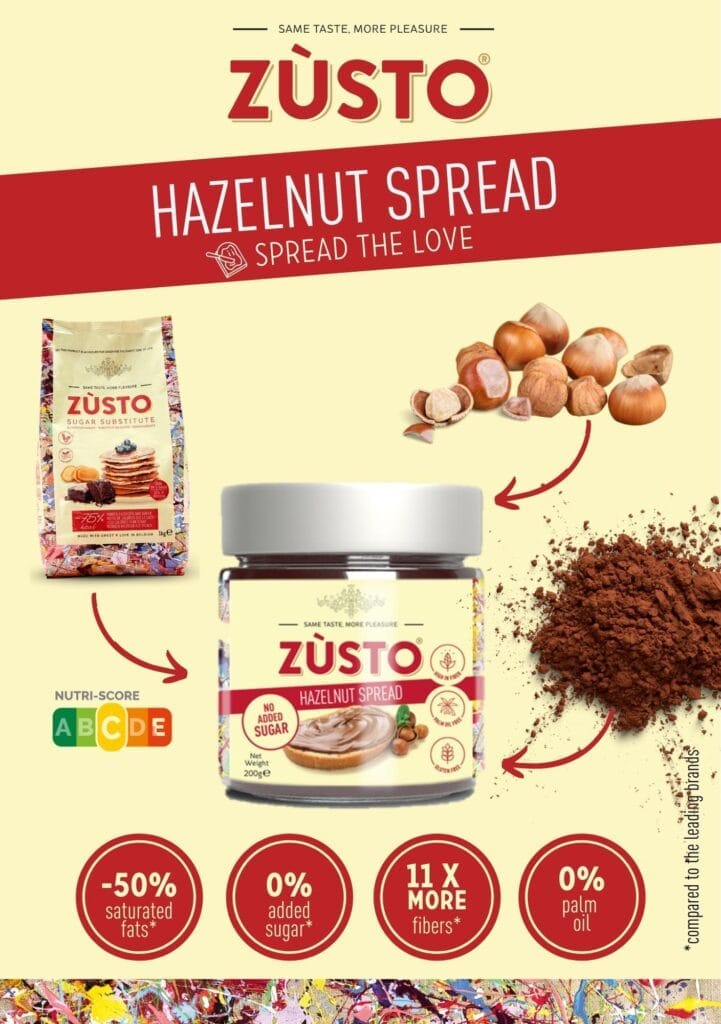 Get to know the one and only Zùsto hazelnut spread and discover its delicious flavour for yourself!
Zùsto hazelnut spread contains a balanced mix of dietary fibers and thus contributes to your recommended daily fiber intake. It even contains 11 times more fiber than a traditional hazelnut spread!
The high fiber content of Zùsto hazelnut spread slows down the absorption of sugar considerably during digestion. This means that the glucose is absorbed less quickly by the body and is released into the bloodstream only slowly. As a result, you get a sustained supply of energy throughout the day.
This hazelnut spread combines years of scientific research with Zùsto know-how for an unparalleled taste experience. This also makes it one of the healthiest hazelnut spreads on the market! Due to its unique blend of dietary fibers, Zùsto contributes to a healthier diet and good digestion.
Zùsto also has 50% less saturated fats, 86% less sugars compared to traditional hazelnut spreads and 0% added sugars. Therefore, it is also extremely suitable for diabetics and overweight people.
Thanks to Zùsto, you can always enjoy the sweet side of life to the full. Discover the Zùsto hazelnut spread and spread the love!
Why are we launching the Zùsto Hazelnut Spread?
At Zùsto, we grew up with a jar of hazelnut spread every morning at the center of the breakfast table, binging on the fat & sweet paste of the classic brands and then crashing from the empty carbs in the afternoon when we were supposed to be at our most productive.
Now that we're adults, we've searched for years for a hazelnut spread that has the same addictive quality as those sugar bomb versions, but actually fuels us for a healthy day. Unfortunately, we've turned up with nothing.
As we learned more about the hazelnut spread industry, we were shocked by the true scope of the problem. The average hazelnut spread contains not less than 50% added sugar. With an average daily consumption of 37grams (the amount needed to cover 2 slices of bread) that equals 6,75kg of sugar a year per person, and kids are one of the largest consumers. Yet almost every version in the aisle is stuck in that old paradigm of fat, empty carbs, and sugar.
Knowing this, we experimented for over a year to create a hazelnut spread inspired by the flavors and nostalgia of our beloved classic hazelnut spread but upgraded for a 21st-century consumer. A guilt-free treat that tastes like you remember and you and your kids can eat at any time of day.
With the Zùsto hazelnut spread, we have replaced all added sugar with a healthy mix of dietary fibers, and made with only the finest hazelnuts.
That's what Zùsto is all about—we hope you enjoy!
100% Happiness guaranteed.
Ingredients
Sugar substitute (filler (polydextrose), fibers of plant-based origin, sweeteners (erythritol, isomalt, sucralose)), plant oil (sunflower, cocoa), hazelnut 13%, skimmed cocoa powder, skimmed milk powder, emulsifier, soya lecithin, aromas
Nutritional values (per 100 g)
Energy: 1744 kJ / 419 kcal
Fat: 30,4 g
– of which saturated fats: 6,3 g
Carbohydrates: 24,2 g
– of which sugars: 12,2 g
Fibers: 34,2 g
Protein: 6,3 g
Salt: 0,08 g