Food for a good mood! These chocolate brownies will make your day. What can you expect from a bite? A mouthful of soft chocolate and a crispy crust.
Preparation time
15 min preparation + 25 min baking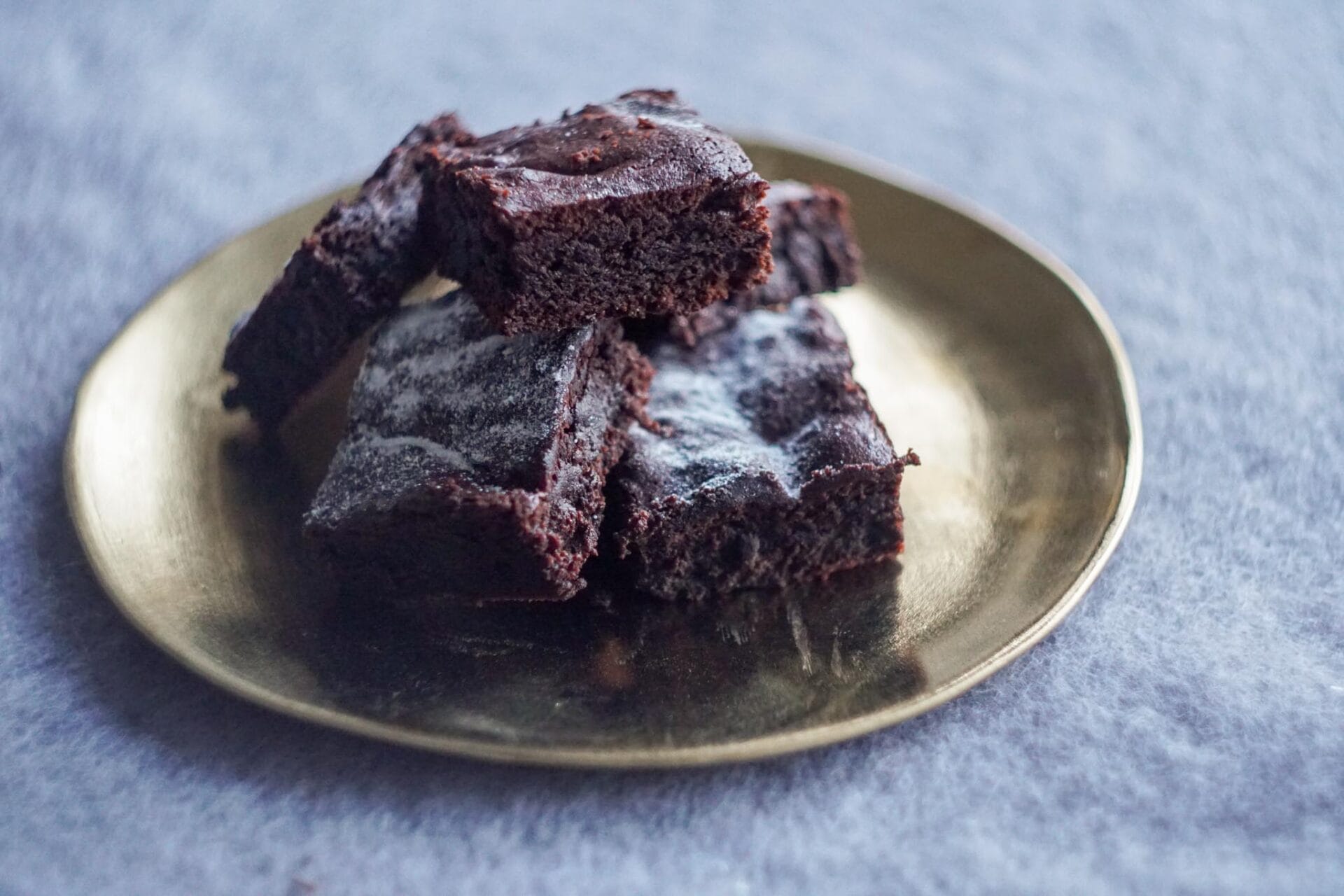 150 g dark chocolate

185 g butter (room temperature) + 15 g water 

3 eggs 

200 grams Zùsto

45 g wholemeal flour 

60 g cocoa powder

1 teaspoon baking powder

Pinch of salt
Preheat the oven to 180°C . 
Melt the butter and the chocolate

in a bain-marie

. 

Put a saucepan on a medium heat and fill it with water

Place a bowl in the saucepan. Make sure the bowl completely seals the cooking pot to prevent steam from escaping. 

Gently stir together the butter and chocolate until completely melted. 

Be careful not to boil your water, the bowl should get hot from the steam.

Break the eggs into a mixing bowl and beat until fluffy.

Add the Zùsto to the eggs and mix well until you get a foamy mixture (at least 10 minutes in the food processor)

Sift the flour, cocoa powder and baking powder over the eggs and mix well until the mixture is smooth and even.

When the chocolate and butter are completely melted, add them to the mixing bowl.

Mix everything together well and add a pinch of salt. 

Prepare the baking tin: Grease with butter/vegetable oil, add flour or breadcrumbs for a crispy crust. 

Pour the batter into the baking pan and flatten it.

Bake the mixture for about 25 minutes in an oven at 180°C. 
Tip: Check to see if the brownie is done by piercing it with a skewer. If there is any wet dough sticking to the skewer, they will need to cook in the oven for a few minutes longer. Brownies may remain soft and moist on the inside but should be cooked.
 

Whole brownie
per portion
Energy

(kcal)

3048kcal

152.4 kcal

Fats

(g)

248g

12.4g

saturated 

148.88g

7.44g

unsaturated 

99.08g

4.95g

Carbohydrates

(g)

258.2g

12.91g

Fibre

(g)

89.7g

4.49g

Proteins

(g)

49.1g

2.46g
Hi, I'm Silke Alenis, a 25-year-old hobby chef. My love for food started some time ago. Now I have been working as a secondary school nutrition teacher for two years. I love teaching my pupils healthy eating habits. Zùsto fits in perfectly with my vision of food; enjoy what you want, but in a balanced and conscious way.