To ease the transition from summer into autumn, I thought it was time to add a touch of seasonal colour to some cookies. Delicious, dried apricots are proof that autumn is just around the corner.
I also made this recipe with Zùsto to keep the sugar rush down!
But the biggest challenge of making these cookies at home is letting the dough rest overnight in the fridge!
Preparation time
1 night and 10 mins preparation + 14 mins cooking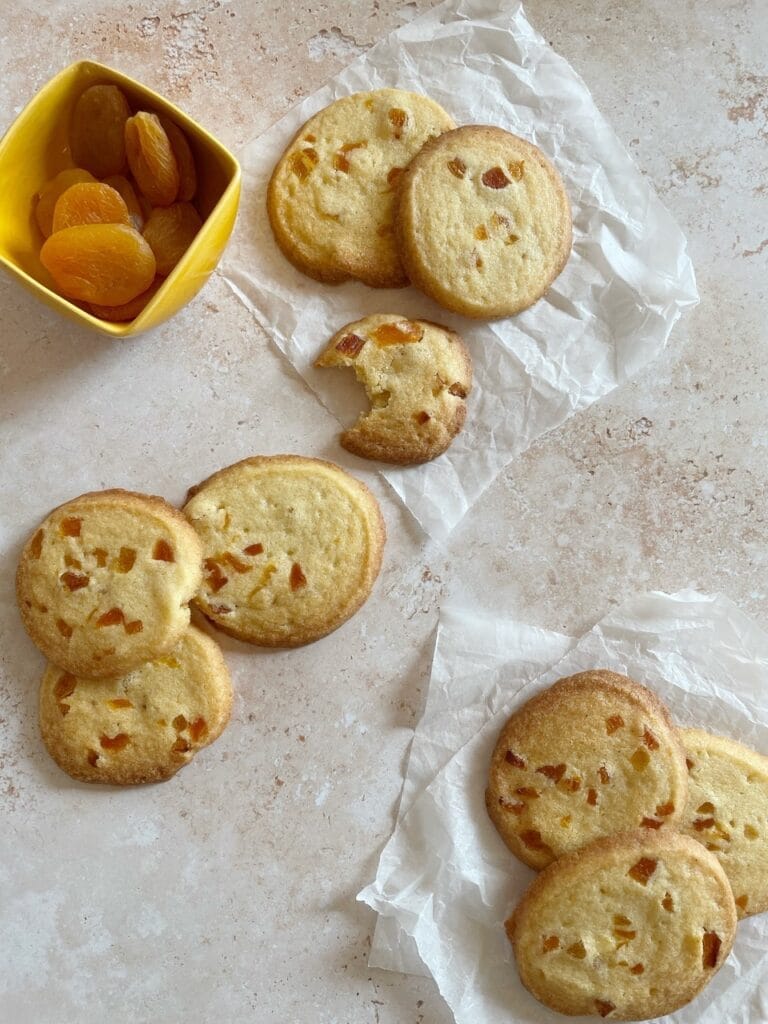 1 egg yolk

112g softened butter

75g Zùsto

150g flour

60g dried apricots (diced)
Material
Mix the flour and Zùsto together.

Add the egg yolk and combine gradually.

Add the softened butter and the apricots. Make a smooth, even ball of dough.

Roll the dough into a sausage shape, wrap in cling film and let it rest in the fridge overnight.

The next day, cut the sausage of dough into slices.

Put it in the oven at 170°C for 14 minutes.
Once done, let it cool down and…
Enjoy!
I'm Joeri Sterckx and I was born on the last car-free Sunday of 1973. And just like my parents had to be creative to get to the hospital, I now enjoy getting creative in the kitchen!
Cookies, or "gateaux" as we call them here at home, are one of our family traditions. Every celebratory occasion is a reason to have one… And every occasion deserves a celebration! That's why I'm convinced I inherited my passion for desserts at an early stage.
My background is that I'm a preschool teacher, but I currently work as a pedagogical supervisor where I support teams in putting together powerful and meaningful teaching sessions.
The rest of my time is spent being a dad to Rune and Tejo, and having lots of fun and laughter.
I hope I inspire you with my bakes. To see more, please take a look at my Instagram account and digital photo album @joeristerckx
Recipes are copyright Joeri Sterckx, unless otherwise noted.
And here's my golden rule to finish with… baking starts with weighing items out and ends with licking the bowl clean!
Have fun baking!
Schaliënhoevedreef 20T, B-2800 Mechelen, Belgium

BE 0656.824.810