From the cookbook Strak Plan 2
A cheesecake with less sugar… now doesn't that sound like a dish made in heaven? Don't you think?!
Preparation time
17 min preparation + 60 min baking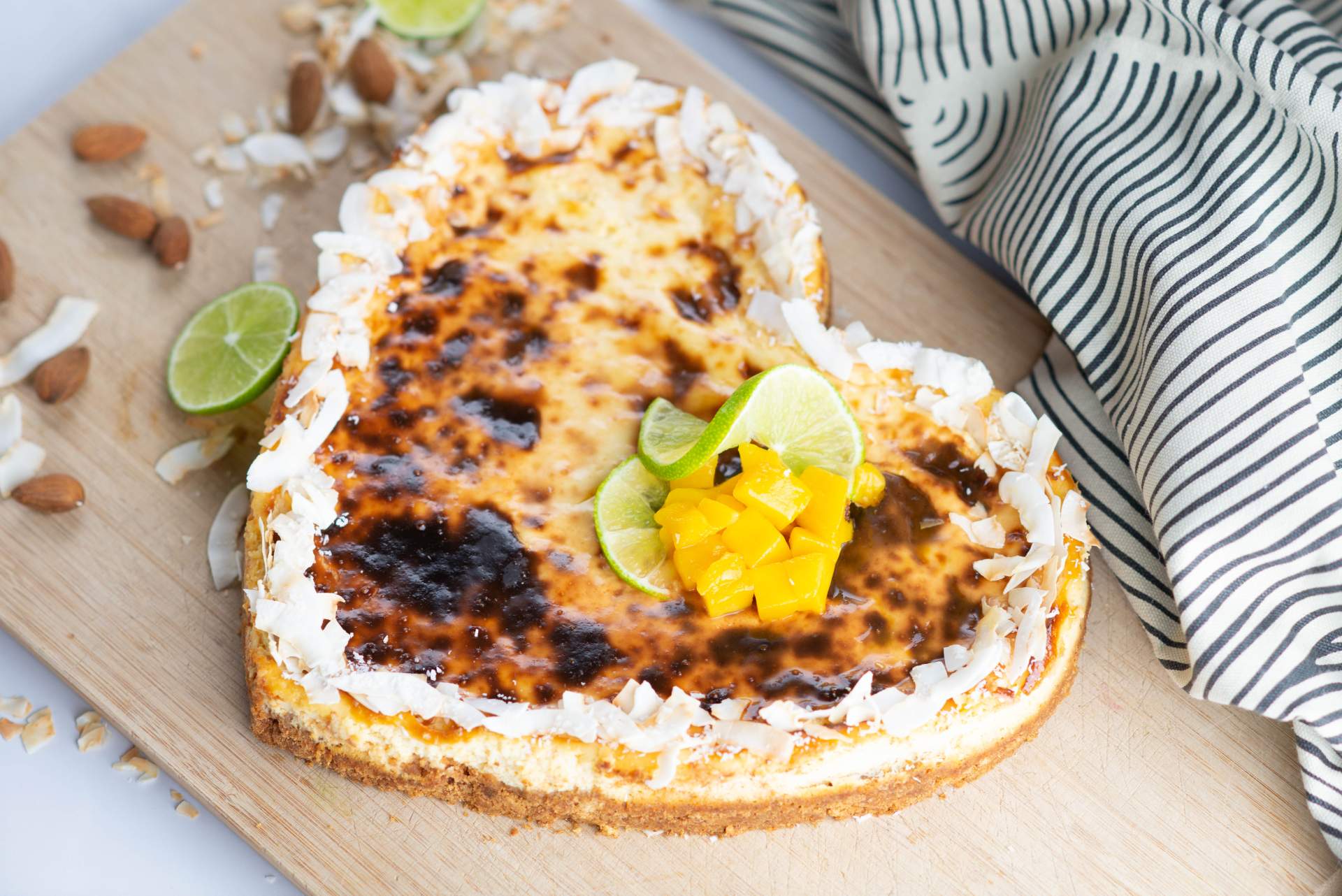 For the base
50 g cashew nuts or almonds

200 g whole grain Nic Nacs (biscuits)

60 ml peanut oil
Filling
350 g Alpro Mild & Creamy Natural with coconut

330 g Philadelphia light natural (XL packet)

3 eggs

70 g Zùsto

juice of ½ lime
Topping
1 mango (or frozen pieces)

coconut flakes for finishing off
Equipment
Oven 

24 cm cake tin

Food processor

Pan

Mixing bowl

Baking tray
Preheat the oven to 160°C.
Base
Crumble the Nic Nac biscuits and chop the nuts. Chop up everything finely in the food processor and add the oil. Don't have a food processor? Then simply place the cookies and nuts in a freezer bag (or similar) and beat them with a rolling pin until they are in very fine pieces. 

Clean a baking tray and grease lightly with some peanut oil. Place the cake tin on top and spread the base over the baking tray. Press down well.
Filling
Mix all of the ingredients together in a large mixing bowl. Don't mix them for too long as you don't want to get too much air in the cake. If you do, there is a chance that the cake will crack.

Pour the filling onto the base and place in the preheated oven at 160°C for 60 min. If necessary, turn on the grill for the last 5 minutes. Allow the cake to cool in the oven with the door open.
Topping
Heat a pan without adding any fat. Place the coconut flakes in the pan until they turn a brown colour. Remove immediately from the pan and allow to cool. Cut the mango into bite-sized pieces. Place the coconut flakes and mango pieces on top of the cooled cheesecake. 
Enjoy!
| | |
| --- | --- |
| Cheesecake | Per serving |
| Energy (in kcal) | 343 |
| Fat (g) | 20.7 |
| Of which saturates (g) | 5.5 |
| Carbohydrates (g) | 26.3 |
| Of which sugars | 10.6 |
| Fibre (g) | 4.5 |
| Protein (g) | 11.6 |
It may sounds like a cliché, but wouldn't you like to lose weight without going on a diet? Then take a look at Strak.
'Online is the new black' is what we mean by the Strak Plan. One branch of the Strak Plan is the successful nutritional and dietary consultations that are mainly held online!
Strak Plan started 3 years ago as a dietician's practice where you could go and work in a sustainable way towards a body that you accept.
We make people aware that a healthy lifestyle is easy to follow and that that number on the scale doesn't mean anything. We look for the underlying problem because the food is just the symptom of it.
When you sign up with Strak Plan, you will receive guidance about psychological inputs, backed up with factual knowledge about nutrition. Add in a very personal approach and you know why you should choose Strak Plan if you want to work on having a life that doesn't involve dieting!