How exciting would this be? Cutting into a cake and discovering if your pattern has turned out well… And what a reward it will be when you cut open the cake and discover a hidden rainbow! I am a total fan!
Preparation time
40 min preparation + 35 min cooking
300 g self-raising flour 

1 tsp baking powder

 

1 tsp apple cider vinegar 

200 g Zùsto

 

a pinch of salt

 

200 ml buttermilk

 

200 g hard margarine 

4 egg whites

1 tsp vanilla extract
Equipment
Cake tin – this can be oblong or rainbow shape 

2 mixing bowls

 

Piping bags (at least 5) 

Small bowls
Preheat the oven to 180°C. Grease the cake tin with lots of butter. And dust abundantly with flour. 

Mix the self-raising flour with the Zùsto and the salt. Set aside. 

In a separate mixing bowl, add the margarine and vanilla extract. Add the egg whites one at a time, mixing after each addition. Then alternately add the flour and buttermilk to the batter. Finish with the flour. Mix between each addition. 

In a separate bowl put the baking powder and the apple cider vinegar. Mix them together until they begin to bubble and then add to the batter. Mix briefly to mix them into the batter. 

Take 5 bowls and put about 4 to 5 tablespoons of batter (75 g to 100 g per bowl) in each. I took 100 g of batter for the red, yellow and green and 75 g for the blue and purple. Add a different colour to each batter (red, yellow, green, blue, purple) and mix them well. Put each colour in a separate piping bag. 

Pour 2/3 of the uncoloured batter into your mould and then start with the red colour. Make a circle with it (if you're using a rainbow shape, otherwise make a rectangle with it if you're using a rectangular shape) and ensure that the edges are a little thicker. Smooth it out a little with a spoon. Then do the same with the yellow batter. Make sure to stay a little away from the sides of the red batter. Continue like this with the other colours until you get a thin purple circle (see image) 

Then very carefully add the rest of the batter and smooth it with a spatula or the back of a spoon. 

Bake for 35–40 minutes in the preheated oven (prick the cake once with a cake stick or skewer to check if the cake is ready). Allow to cool for 15 mins before removing the cake from the mould.
| | |
| --- | --- |
| Hidden rainbow cake | For a 45 g slice |
| Energy (in kcal) | 152 kcal |
| Fat (g) | 9 g |
| Of which saturates | 3.6 g |
| Of which unsaturates | 5.4 g |
| Carbohydrates (g) | 12 g |
| Fibre (g) | 2.3 g |
| Protein (g) | 2.8 g |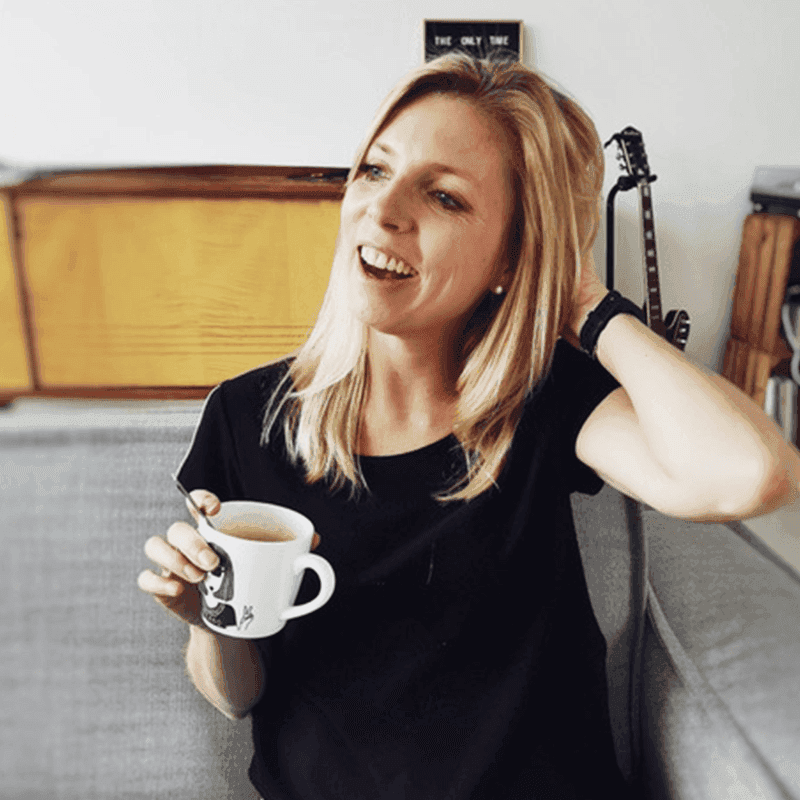 Hi, I'm Yasmine from the pastry blog Tartes Yaya. As well as running my blog, I work full time as an IT project manager. Baking is my creative outlet, but I also enjoy sports (jogging, hiking, aerial dance and horse riding).
I'm mum to an 8 year old boy, Ilyas, and a 6 year old girl, Fatou. In August 2018, Ilyas was diagnosed with type 1 diabetes (an autoimmune disease that is not caused by eating too much sugar… just to clarify that! ;)).Even though a type 1 diabetic can eat whatever they want and don't have to follow a special diet, their body has greater difficulty in processing real sugars because the body is not able to produce insulin itself or manage insulin spikes properly.
My son's diabetes led me to discover Zùsto and since then, Zùsto has been my favourite sugar substitute!