From the cookbook Strak Plan 2
This cake is made with psyllium fibre. The psyllium fibres will ensure that the base stays together. Psyllium fibre may stimulate the function of your gut and bowel movements. However, it is important that you drink enough throughout the day because these fibres have the ability to absorb moisture and may encourage bowel movements. Psyllium fibre is also sometimes called ispaghula. It can be used in cakes to achieve better bonding and a less crumby cake.
Preparation time
20 min preparation + 25 min baking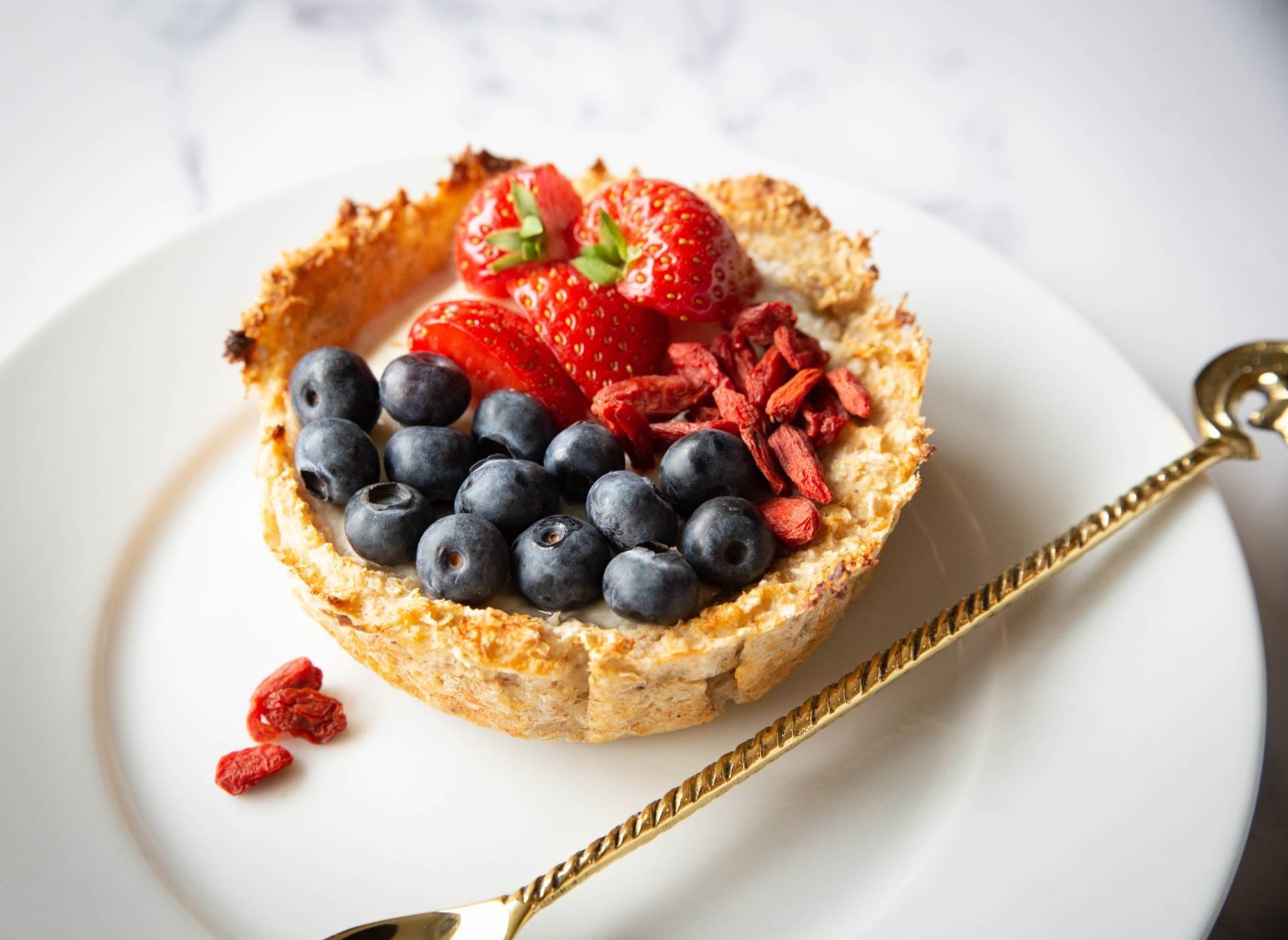 150 g oatmeal

40 g psyllium fibre

540 g quark (Alpro absolutely coconut)

2 tbsp Zùsto

3 tbsp grated coconut/coconut flakes

250 g strawberries

180 ml water
Equipment
Bowl

Springform pan

Baking paper

Oven
Mix 270 g of quark with the oatmeal, psyllium fibre and water. Add 2 tbsp. of Zùsto. Leave to stand for 15 minutes. This is the base of the cake.

Mix the remaining 270 g of quark with the grated coconut/coconut flakes.

Line the springform pan with baking paper and then fully spread the quark/oatmeal mixture over the bottom and edges.

Fill with the quark mixture.

Bake for about 25 minutes at 180°C. Remove from the oven and remove from the tin. Bake for another 2 minutes or so out of the tin so the outside of the base is no longer too wet. This will depends upon how thick you made the base. Allow to cool. Spread the fruit on top. Enjoy!
| | |
| --- | --- |
| Oatmeal Cake | Per cake |
| Energy (in kcal) | 251 |
| Fat (g) | 10.6 |
| Of which saturates | 8 |
| Carbohydrates (g) | 27.9 |
| Of which sugars (g) | 8.7 |
| Fibre (g) | 10.5 |
| Protein (g) | 5 |
It may sounds like a cliché, but wouldn't you like to lose weight without going on a diet? Then take a look at Strak.
'Online is the new black' is what we mean by the Strak Plan. One branch of the Strak Plan is the successful nutritional and dietary consultations that are mainly held online!
Strak Plan started 3 years ago as a dietician's practice where you could go and work in a sustainable way towards a body that you accept.
We make people aware that a healthy lifestyle is easy to follow and that that number on the scale doesn't mean anything. We look for the underlying problem because the food is just the symptom of it.
When you sign up with Strak Plan, you will receive guidance about psychological inputs, backed up with factual knowledge about nutrition. Add in a very personal approach and you know why you should choose Strak Plan if you want to work on having a life that doesn't involve dieting!