For the pregnant women among us, in this tiramisu with red fruit, there are no raw eggs and no alcohol either. This also makes it ideal for people with egg allergy.
It's a perfect summery, fresh and airy dessert that you can whip up in no time. Ideally, you could make it a day in advance so it's even tastier. In any case, the cookies need some time to "get mushy" so making them and eating them right away is a little less advisable (for the impatient among us, it certainly can be done, but it's just so much tastier the day after).
Preparation time
15 mins preparation + 6 hours in the fridge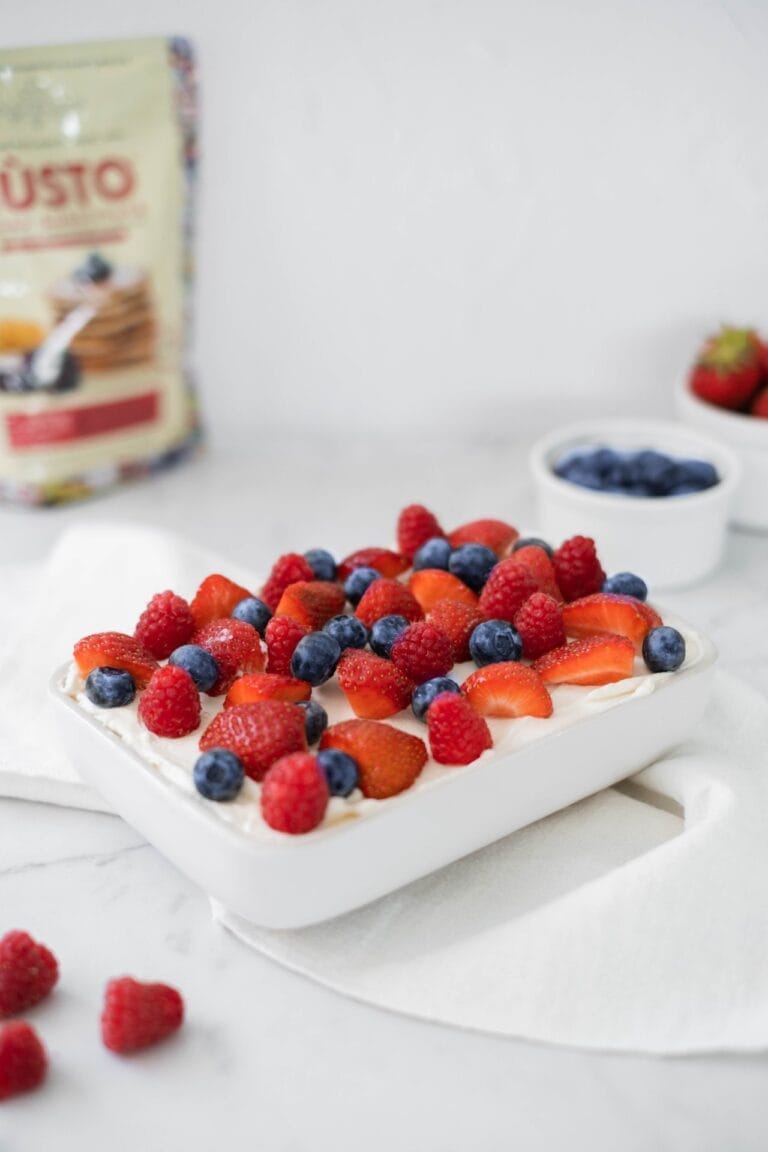 1 orange (to squeeze)

200 ml heavy cream

60 g Zùsto

250 g mascarpone

150 g strawberries (without stem)

100 g raspberries

100 g blueberries

10 ladyfingers (boudoir cookies)
Equipment
1 serving platter 20 x 15

1 mixing bowl

1 citrus press
Squeeze the orange and pour the squeezed juice into the mixing bowl. Wash the strawberries and remove the stems. Cut the large strawberries into quarters and halve the smaller ones. Place them on a piece of

kitchen roll to make sure they're definitely not too wet anymore. I personally don't wash the raspberries and the blueberries (otherwise they stay too wet). Of course, feel free to do so if you prefer 🙂 but then do tap them dry with kitchen roll.

Beat the cream to make whipped cream and while whisking, add the Zùsto spoonful by spoonful

. Once the whipped cream is almost done, add the mascarpone.

Keep mixing at a slower speed until you get a smooth batter.

Cover the serving platter with a layer of batter.

Place the ladyfingers on top and, using a teaspoon, spoon the orange juice over the sponge fingers (you can also dip the sponge fingers, but personally I find that they get too soggy).

Cover with fruit (pieces of strawberry, raspberry and blueberry) and then with the rest of the mascarpone batter. Finish off with the remaining fruit.

Put in the fridge for at least 6 hours before serving (even tastier the day after 😉 ).
Enjoy!
| | |
| --- | --- |
| Tiramisu with red fruit | 100 g Tiramisu |
| Energy (kcal) | 239 |
| Fats (g) | 30.3 |
| Of which saturated fats (g) | 13.6 |
| Carbohydrates (g) | 8.4 |
| Fiber (g) | 2.0 |
| Protein (g) | 3.4 |
Hi, I'm Yasmine from the pastry blog Tartes Yaya. As well as running my blog, I work full time as an IT project manager. Baking is my creative outlet, but I also enjoy sports (jogging, hiking, aerial dance and horse riding).
I'm mum to an 8 year old boy, Ilyas, and a 6 year old girl, Fatou. In August 2018, Ilyas was diagnosed with type 1 diabetes (an autoimmune disease that is not caused by eating too much sugar… just to clarify that! ;)).Even though a type 1 diabetic can eat whatever they want and don't have to follow a special diet, their body has greater difficulty in processing real sugars because the body is not able to produce insulin itself or manage insulin spikes properly.
My son's diabetes led me to discover Zùsto and since then, Zùsto has been my favourite sugar substitute!
Schaliënhoevedreef 20T, B-2800 Mechelen, Belgium

BE 0656.824.810