Sachertorte comes from Vienna (well, this version comes from my kitchen!). It's a chocolate cake filled with a layer of apricot jam and covered with a thick blanket of chocolate ganache. I actually think it's the perfect cake to enjoy at the weekend with a cup of coffee (or tea).
Preparation time
40 mins preparation + 30 mins cooking
For the cake
150g dark chocolate *

6 eggs – yolk and white separated

150g liquid margarine

1 tsp vanilla extract

150g self-raising flour

175g Zùsto

A pinch of salt

150g sugar-free apricot jam
For the ganache
200g dark chocolate *

100g double cream

25g hard margarine
*Chocolate can also be substituted with our chocolate callets. These contain fewer calories and are better for our health.
Material
Round springform tin, 24cm diameter

Baking paper

Cooling rack

3 mixing bowls
For the cake
Melt the chocolate in a bain-marie or in the microwave on a low setting (600W) and melt for bursts of 30 seconds, stirring the chocolate between each burst. Once almost all of the chocolate has melted, keep stirring until even the final bits melt away.

Preheat the oven to 180°C and grease the baking tin. I always line it with baking paper too (I cut out a circle to line the base and long strips to line the sides).

Separate the eggs and set the whites aside. Whisk the yolks together and add the liquid margarine and vanilla extract.

Combine the self-raising flour, Zùsto and a pinch of salt in a separate mixing bowl. Add this to the egg mixture and continue to mix.

Pour the melted chocolate in and continue to mix.

Beat the egg whites until stiff and lightly fold them into the mixture.

Pour the mixture into the tin and bake for around 30 to 40 minutes in the preheated oven. Prick it after 30 minutes to check if it's cooked. Your fork or cake skewer should come out clean.

Leave the cake to cool for 15 minutes before removing the springform tin. Leave the cake to continue to cool on a wire rack.

Once the cake has cooled down, cut it in half lengthways. Spread the apricot jam on one half and place the other half on top.
For the ganache
Chop the chocolate into small, equal pieces (+/- 1cm by 1cm) and add them to a heatproof bowl.

Bring the cream to the boil in a steel pan. Pour the cream over the chocolate and leave to stand for 1 minute.

Next, add the hard margarine and whisk until you have a smooth ganache.

Place the cake on a cooling rack with newspaper or baking paper underneath (to catch any chocolate that drips off the cake) and pour the ganache onto the middle of the cake. Make sure it 'cascades' well and covers the sides. If necessary, spread further with a palette knife (you'll have some ganache left over, but you need enough to make sure the whole cake is covered).

Put the cake in the fridge so the ganache can set.
| | |
| --- | --- |
| Sachertorte | Per slice of cake (= 75g per serving) |
| Energy (in kcal) | 259kcal |
| Fat (g) | 16.9g |
| Of which saturates (g) | 6.3g |
| Carbohydrates (g) | 16g |
| Fibre (g) | 3.6g |
| Protein (g) | 4.6g |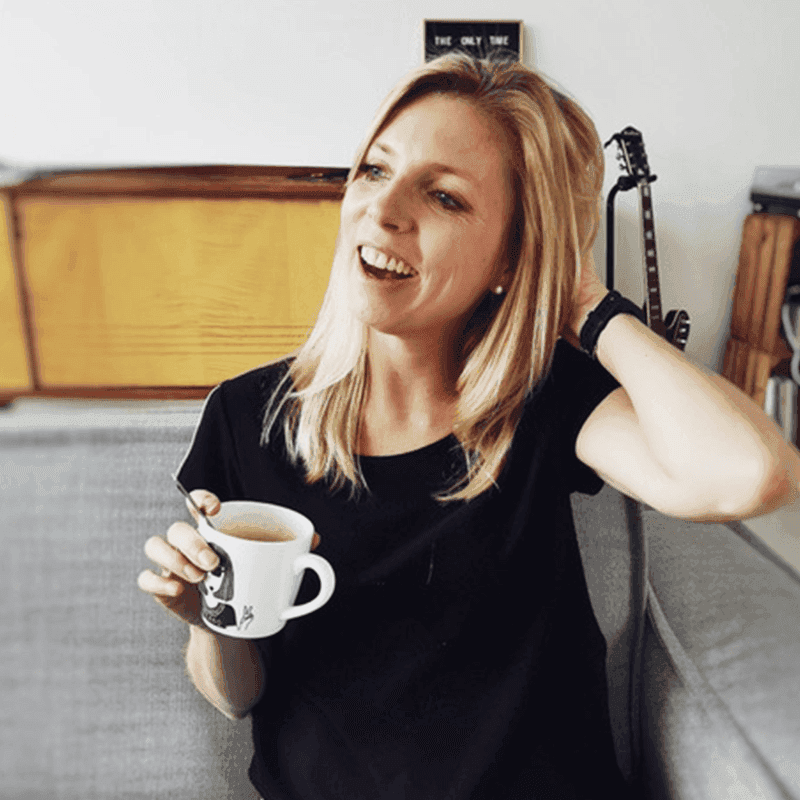 Hi, I'm Yasmine from the pastry blog Tartes Yaya. As well as running my blog, I work full time as an IT project manager. Baking is my creative outlet, but I also enjoy sports (jogging, hiking, aerial dance and horse riding).
I'm mum to an 8 year old boy, Ilyas, and a 6 year old girl, Fatou. In August 2018, Ilyas was diagnosed with type 1 diabetes (an autoimmune disease that is not caused by eating too much sugar… just to clarify that! ;)).Even though a type 1 diabetic can eat whatever they want and don't have to follow a special diet, their body has greater difficulty in processing real sugars because the body is not able to produce insulin itself or manage insulin spikes properly.
My son's diabetes led me to discover Zùsto and since then, Zùsto has been my favourite sugar substitute!