Sicilian cannoli with pistachio nuts and orange
Join on this week's trip to sun-drenched Sicily! Cannoli are a delicious Italian specialty that originate on this Mediterranean island. The crispy fried shells have a creamy ricotta filling. For these cannoli, we have chosen to add pistachio nuts to the filling but they are equally delicious with candied orange peel, other nuts and even chocolate. Buon appetito!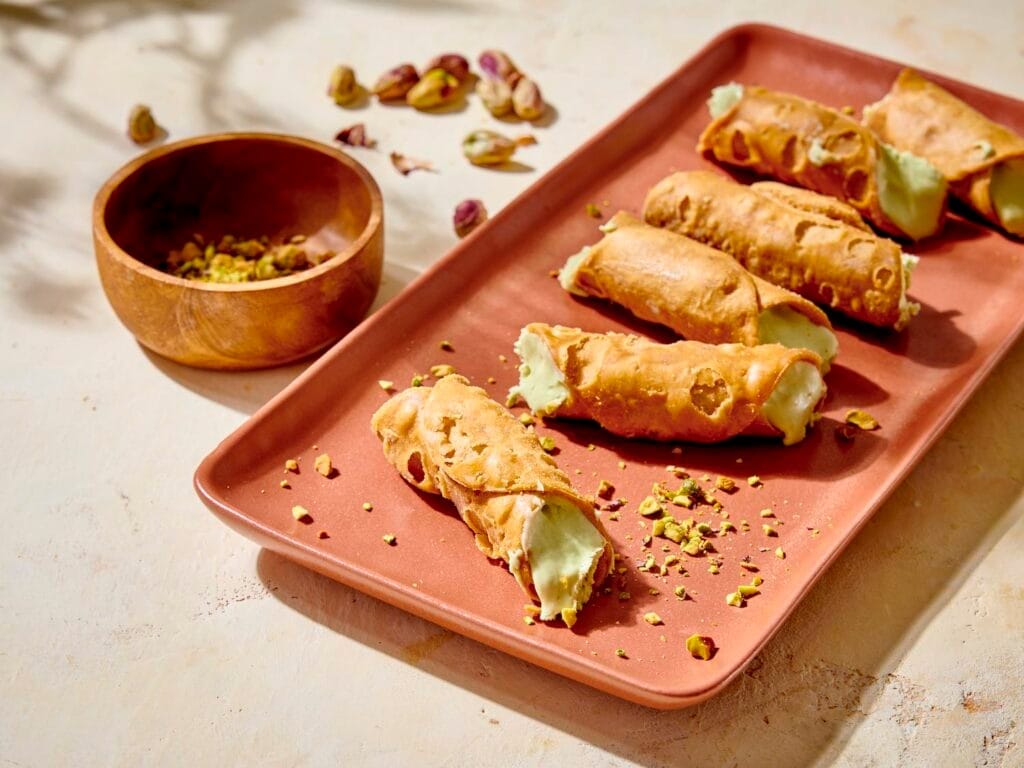 Shell:
1 vanilla pod
50 g butter (room temperature)
25 g Zùsto
200 g flour
1 egg
1 pinch of salt
4 tbsp Marsala wine
1 egg yolk
Filling:
70 g pistachios
1 vanilla pod
100 g Zùsto
350 g ricotta
Zest of 1 orange
1 tbsp orange blossom water
Split the vanilla pod lengthwise and scrape out the seeds.
Combine the Zùsto, flour and salt, then add the butter and egg.
Add the vanilla seeds and Marsala wine to the mixture. Knead with the dough hook of your mixer until the dough is supple.
Wrap the dough in cling film and refrigerate for one hour.
Heat the oil to 180 °C.
Dust your worktop and the dough with flour and roll it out as thinly as possible.
Cut the dough into approximately 5 cm squares.
Brush some oil onto the cannoli tubes and wrap the dough squares around them in a diamond shape, so that two corners meet.
Brush with egg yolk and press to seal.
Fry the cannoli shells until golden brown and crisp. Drain on kitchen paper.
Slide the cannoli shells off the tubes and fry again if they are not cooked through.
Set aside to cool.
Filling:
Finely chop the pistachio nuts.
Split the vanilla pods lengthwise and scrape out the seeds.
Combine the ricotta with the Zùsto, pistachio nuts, orange zest, vanilla seeds and orange blossom water.
Scoop the mixture into a piping bag and allow to set in the fridge.
Fill up each cannoli shell with the mixture and dust with some Zùsto.
Enjoy!
| | |
| --- | --- |
| Nutrients/Values | Per 100 g |
| Energy (kcal)    | 285.7 |
| Fat (g)    | 18.4 |
| Of which saturates (g)    | 7.6 |
| Carbohydrate (g)    | 21.6 |
| Sugar (g)  | 2.8 |
| Fibre (g)    | 9.9 |
| Protein (g)    | 8.9 |
| Salt (g)  | 0.504 |
| Nutri-score    | C |
Schaliënhoevedreef 20T, B-2800 Mechelen, Belgium

BE 0656.824.810